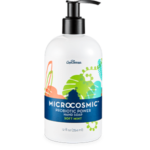 Probiotic Power Hand Soap
The Soap Made like Skincare
Made with ingredients from the beauty aisle.
Our skin-loving probiotic makes for a happy clean that's gentle on you.
Formulated at a pH that aligns with skin, so there's no stripping or drying.
Wash Well
Washing hands is one of the most common health practices we do. Do it better!
Functional 100% essential oil fragrances
Amazing smell for happy skin, mood, and cleaning.
Dermatologist-Tested & Hypoallergenic
Product Specs
2.4 x 5.2 x 7.7 in
2.5 lbs